Welcome!

Welcome to our new site! We have created this site with YOU, our customer in mind. We realize how fast paced our culture has become and wanted you to have a tool that is easy to use but highly sophisticated. The internet has changed the way we do business and we feel that this product taps the full potential of this power. Now more than ever branding is a key component of a company's marketing and sales strategy. It is our job to consistently develop and maximize the power of your brand via carefully selected apparel and specialty advertising products. We feel that this tool will only enhance the creative relationships we share with our customers. OUR MISSION IS TO CREATE A PLEASANT EXPERIENCE FOR OUR CUSTOMERS THROUGH THE USE OF QUALITY PRODUCTS AND SERVICES.
TESTIMONIALS "We trust Sharpe with all aspects of our branding campaign. From our online store to our gift shop merchandise to our employee uniforms, Sharpe provides the full-circle advertising approach our company demands." - David Carpenter, Toyota Motor Mfg Kentucky "Sharpe is a valuable business partner for Lexmark. Our apparel and accessories program is attractive and current with what our employees want." - Sylvia Vincent, Lexmark (10/10/2010)
Featured Item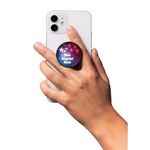 Nuckees™ Phone Grip and Stand
The phone grip that is saving fingers everywhere! Nuckees™ is what your fingers have been waiting for. From texting and getting perfect selfies to mobile gaming, watching videos and more, Nuckees™ tak...